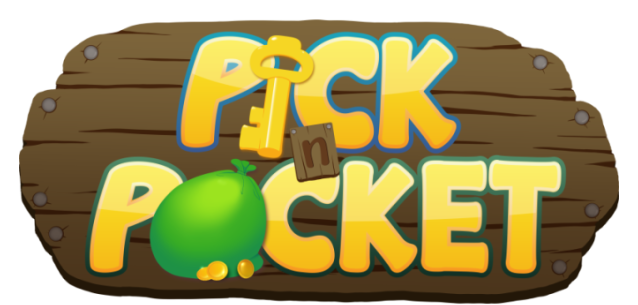 Pick 'n' Pocket Demo
A downloadable game for Windows
Pick 'n' Pocket is an arcade platformer game featuring cute woodland creatures out to steal whatever they can get their greedy paws on.
Use items, your reflexes and your wits to gather as much swag as possible before time runs out. Once you've plundered the area for as many valuables as you can hold, run back safely to your base or risk losing it all and starting again empty handed. The more swag you have in tow once you get back to your base, the more points you're rewarded. Watch out though, the more you carry, the slower you get and the harder it becomes to avoid those who want their stuff back. Do you get as much as possible and risk getting caught? Or do you play it safe and pick small amounts at a time?
Pick 'n' Pocket features a single and local multiplayer mode so you can try to beat your own high score or go head-to-head with a friend and see who the better thief is.

---

Pick - A plucky raccoon thief with an eye for treasure and the determination to always gets what he wants, if Pocket hasn't gotten to it already that is.

Pocket - A tough squirrel who loves a challenge and always seems to get stuck getting Pick out of trouble.
---
A wide variety of locals and challenges await the player as they bounce from one heist to the next.
Cabin - A lone cabin in the woods is ripe for the plundering. Avoid the residents and wildlife while navigating the creaky balcony and rooftop and make out with as much of their valuables as you can.
Train - No thief can call themselves a thief until they've robbed a train. Hop aboard and watch out for the inspectors, after all, you don't have a ticket. There's no safety net too, so make sure you watch your jumps and you don't fall off the train, you never know when the next one might be.
Each level will have a single player and multiplayer map and multiplayer maps will offer players chances to turn the tide in their favor by using the environment against their opponent.

---
Controller Recommended
D-Pad/Left Stick - Move
A - Jump
X - Use Item
B - Action
Start - Start/Pause
Keyboard Controls - P1
W,A,S,D - Move/Climb
Space - Jump
Q - Use Item
E - Action
Enter - Start/Pause
Keyboard Controls - P2

Num 5,1,2,3 - Move/Climb
Num 0 - Jump
Num 4 - Use Item
Num 6 - Action
[+] - Start/Pause
---
(The following are not implemented in the demo, but planned/considered for final release!)

A single player challenge mode and extra multiplayer modes are being considered as added features.
Dare I add... boss battles?
More characters are planned to help fill up Pick and Pocket's hideout. Each one is given a unique design and personality that will give players a nice variety to choose from without influencing their play style.

More items to choose from to help you steal more and get caught less.
Sunken Ship - The call for doubloons is too great for any thief to resist, so it's time to get wet and dive head first into the depths. Keep an eye out for dangerous sharks and make sure you don't run out of precious oxygen. Once you drop off your swag, the job's not done. You have to make sure it safely gets to the top or risk losing it to pirates.
Skyscraper - Hope you're not afraid of heights, because this job sees you touch the clouds as you try to lift from a corporate fat cat. A more vertical level than the rest, this tower features falling debris and enemies more willing to see you stopped as they're not afraid to chase you up and down multiple stories.
Haunted Mansion - Some say the place is haunted, and those folks are right! Avoid roaming monsters and ghosts and make for the exit with as much old timey stuff as possible. But wait? The exit was here just a moment ago. Oh-oh, looks like the mansion not only has haunted residents, but the place itself is alive and is switching the rooms around!
---
CREDITS
Design/Art/Programming/Sound - Ron McCullough
Music - Tim Herrick
Voices
Pick - James Skretteburg
Pocket - Araceli De La Santa Cruz
Everything Else - Ron McCullough
Thanks to the Cool Kids Discord Chat!
Any donations are greatly appreciated and will help the game continue to grow!
Be sure to leave comments, suggestions and found bugs/glitches!
Download
Click download now to get access to the following files:
Pick 'n' Pocket Demo v.1
27 MB